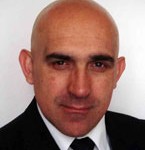 February 15, 2011
Professor and, Director of Earthquake Engineering Research Facility Location: CEME – Room 2018 Telephone: 604.822.6946 Facsimilie: 604.822.6901 Email: ventura@civil.ubc.ca Research Interests: Earthquake engineering, structural dynamics, instrumentation and testing of structures.
Posted in Prof Talk | Tagged with
January 25, 2011
January 10th – James Tansey, Sauder School of Business January 17th – Rosie Redfield, Microbiology January 24th – Erica Frank, MD January 31st – Werner Antweiler, Sauder School of Business February 7th – Alejandra Bronfman, History February 14th – Kim Schnoert-Reichel, Education February 21st – Andre Marziali, UBC Engineering Physics February 28th – Mark Vessey, […]
Posted in Prof Talk | Tagged with
January 7, 2011
LISTEN TO PROF TALK: http://feeds.feedburner.com/Citr–ProfTalk February 15 Dr. Carlos Ventura, from the department of Civil Engineering will discuss his role as the Director of the Earthquake Engineering Research facility at UBC as well as some of the recent seismic trends in structural engineering. February 1 Dean of Arts and Haitian scholar, Gage Averill will discuss […]
Posted in Prof Talk | Tagged with
October 27, 2010
November 30 Dr. Brandon Konoval from the School of Music will discuss his current research and and cross appointment in both the School of Music and the Arts One Programme.
Posted in Prof Talk | Tagged with
October 14, 2010
October 19th Dr. Marilyn Chapman will discuss her role as the lead researcher and author of the new guide for full-day kindergarten in the province, as well as her role in directing the Institute for Early Childhood Education and Research in UBC's Faculty of Education. October 5th Dr. Neil Safier from the Department of History […]
Posted in Prof Talk | Tagged with
September 12, 2010
September 21st Dr. Ken Bryant from the UBC Department of Asian Studies will discuss his upcoming class on Bollywood film as well as the histories of the languages of Urdu and Hindi in literature and popular culture. September 7th Professor Gu Xiong, UBC Department of Art History and Visual Art discusses his exhibit "Becoming Rivers" […]
Posted in Prof Talk | Tagged with
April 23, 2009
May 11th Dr. Janet Werker, Director of the Infant Studies Centre Speech and Language Processing, UBC Department of Psychology. Dr. Werker discusses her research of infants growing up bilingual and language acquisition in infancy; speech perception, cognitive development and parent-infant communication. May 4th Dean Emeritus Marty Hollenberg, former UBC Dean of Medicine discusses some of […]
Posted in Prof Talk | Tagged with
March 29, 2009
April 27th Professor Alfred Hermida from the UBC School of Journalism discusses how journalism and forms of media are changing (he is an authority on digital journalism, having been a founding member of BBCnews.com) as well the rise of social media and the role of citizen journalism. April 20th – Guest Host Andy Torr Professor […]
Posted in Prof Talk | Tagged with
February 28, 2009
March 30th Dr. Carl Wieman, Nobel laureate, discusses his beginnings and the research that led him to receive the Nobel Prize in Physics in 2001.  He also discusses the goals of the Carl Weiman Science Education Initiative at UBC to achieve highly effective, evidence based science education for all post-secondary students by applying the latest […]
Posted in Prof Talk | Tagged with
January 29, 2009
February 3 Professor Benjamin Perrin, from the UBC Faculty of Law; a speech that he delivered to the BC Human Rights Coalition and the United Nations Association in Canada on the 60th anniversary of the Universal Declaration of Human Rights last December 10th, 2008. February 10 Prof Talk features a panel lecture from last October; […]
Posted in Prof Talk | Tagged with
January 7, 2009
January 6 Professor Keith Maillard, UBC Creative Writing Department Keith Maillard discusses his current work. He is an internationally acclaimed writer and novelist, specialising in fiction and poetry; and he also Chairs one of North America's most successful Creative Writing programs. January 13 Dr. Hadi Dowlatabadi, The Institute for Resources, Environment and Sustainability, UBC Professor […]
Posted in Prof Talk | Tagged with
November 6, 2008
December 16th Professor Alan Matheson, UBC School of Music.  Alan Matheson is a Canadian trumpeter, pianist, composer and arranger. Alan currently teaches trumpet and jazz piano at UBC. December 9th Doctoral student T. Todd Jones, UBC Department of Zoology.  Groundbreaking research of critically endangered leatherback turtles; part two of a two part series on the […]
Posted in Prof Talk | Tagged with